Hi guys,
I'm looking to DIY create more space in my garden and clean it up with some fresh artificial grass (personal preference), but I'm unsure where to even start with the surrounding walls and weeds.
ivy is out of control, I've literally just cut it out from inside the shed.
Also what I believe from google the Maidenhair vine (creeping wire vine) is currently dormant but it's a mess and rooted into the ground.
Could anyone offer any advice please on how to completely eradicate kill and remove all this rough?
Glyphosate 36 seems a popular choice but I'm unsure what the better brand product is to choose (Rosate, Gallup or Monsanto). Also how to tackle the vine roots from the ground so that nothing starts creeping back in.
Currently January and average 3 degrees in Scotland, I'm more than happy to get busy outside but whether this is the best time of year ton start the project is a good question. For example, should I manually cut out and dig as much as possible now and then spray now or at a later date?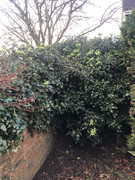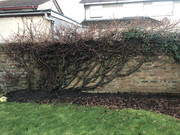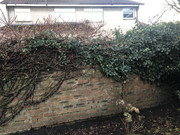 Thank you in advance