Joined

23 Feb 2015
Posts

2,483
Location
Hi all,
Mionix new gaming mouse with heartrate, galvanic skin response and activity monitoring is now available to pre-order. This mouse had a load of buzz around it when they launched the kickstarter for it. I'm looking forward to a third party app where I can use the galvanic skin response detector to play a little game of lie detector with my wife
The mouse is designed for those who use a palm grip for the sensors to work, so if your a "Claw" then go for something else. It's been in development since 2014 and so should be a quality product , like the rest of the Mionix gear. I'm thinking this product is aimed at professional gamers and streamers to be able to gain insights into their performance or share their bodies reactions to gaming scenarios. I can imagine the data being useful to gaming companies to alter their game design to create more scenarios in their games that provoke greater reactions from players. Some blurb from the kickstarter:
A NEW DIMENSION OF GAMING
We created the NAOS Quantified Gaming mouse to enable you to get deep insights into how your body reactions effect your performance
Via built in sensors, the NAOS QG tracks your heart rate, galvanic skin response and actions per minute. This data appears as a transparent overlay on your screen.
Just like athletes gather and analyze data, we want to do the same for gamers. Provide you with deep insights. Enable you to understand your reactions and optimize your gaming.
Sounds awesome, right? You have no idea yet.
WIth the NAOS QG you can share and compare QG stats with friends and the community. This opens a whole new dimension.
NAOS QG enables you to understand your body reactions, without ever compromising on performance. This is what makes it possible:
A cutting edge optical mouse with outstanding ergonomics, highest build quality and awesome performance
State of the art sensors, built into the mouse
A Quantified Gaming software engine that brings it all together
TRACK, MONITOR, ANALYZE
TRACK. Always wondered why you are losing against this noob when a big stake is on the table? No longer wonder you must!
Track your stress level in real-time
Measure your body reactions
Keep track of changes and your goals
Select what data to track on the settings screen
Select what data to track on the settings screen
MONITOR. The QG software will display your individual stress data in a transparent overlay on the screen
On-screen display, customizable location
Real-time acoustic/visual feedback (such as threshold warnings)
If your stress data is too high, take a break
CS:GO multiplayer with Quantified Gaming activated
CS:GO multiplayer with Quantified Gaming activated
ANALYZE. Review your performance to understand when and why you are stressed. Make use of the data for efficient training and become a real gaming hero! Are you cool as a cucumber or a mental wreck?
Analyze peaks and identify patterns across games and over time
Time stamped peaks linked to snapshots for easy tracking
Works with 3rd party game recording software like NVIDIA ShadowPlay, Raptr, XSplit and more
Analyze and compare your data after the game.
Analyze and compare your data after the game.
SHARING
Here is the best part: Option to share your physical reaction with others through Twitch and your favorite social media channels! Display your stress levels live on-screen to your followers and casters. You decide when, how and what data you want to share. Simple and awesome as that.
WE ARE BUILDING QG COMMUNITY
NAOS QG is just the first step towards an open Quantified Gaming platform. We are developing APIs so you can create your own Quantified Gaming experiences.
We welcome developers and hardware teams to join the Quantified Gaming community, where players can share applications and data to give gaming a long awaited new impulse. Stay tuned for more info on
www.quantifiedgaming.org
SOFTWARE
The Quantified Gaming software can be used with any game (and even with other apps). No matter if you are hunting panzers in World of Tanks, zerging in StarCraft II, facing a penalty in FIFA 15, sneaking by the witch in Left4Dead2 or playing Online Poker, Quantified Gaming will add a new experience to your game.
It is completely independent of the game or play
The QG software takes screenshots and time stamps, so you can easily can analyze your peaks or certain patterns and relate them to situations.
SENSORS
NAOS QG contains sensors that track and monitor your body reactions for real time information whilst using it
Heart rate sensor - optical heart rate sensor, using 515 nm InGaN PWM controlled LED, high-sensitivity photo sensor and advanced noise-surpressing algorithms to extract heart rate from blood flow variations.
Galvanic Skin Response sensors, measuring galvanic skin response as an indication of excitement and stress. - high resistance voltage dividers, low noise amplifiers and software algorithms especially optimized for gaming to derive changes in stress from skin moisture level.
The sensors are positioned on the back of the mouse for smooth and interruption-free tracking. Due to the ergonomic shape of the NAOS, the sensors' positions are optimized for right-hand gamers using the palm grip.
Please note that sensor placement and design may be adjusted during the development process for optimization.
OPEN APIs
Oh yah, one last thing: we kept the APIs not only open but also free for everybody to use. We invite all game developers and hackers to incorporate QG data into their games or applications.
Wouldn't it be awesome to have sweat running into your character's eyes in BF5 when the sensors detect your hand is perspiring? C'mon DICE, your turn!
Mionix Naos QG Quantified Gaming Mouse @ £109.99 inc VAT
https://www.overclockers.co.uk/Mionix-Naos-QG-Quantified-Gaming-Mouse-KB-013-MI.html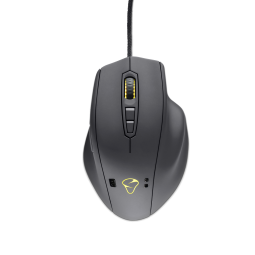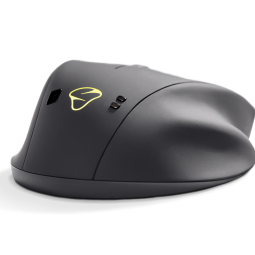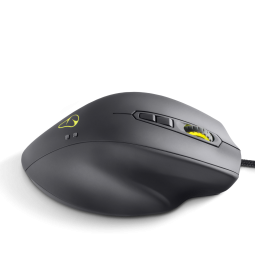 MONITORING OF HEART RATE GSR AND ACTIVITY, 12000 NATIVE DPI OPTICAL SENSOR (PMW-3360), IN-GAME VISUALIZATION OVERLAY
Only £109.99 inc VAT.
ORDER NOW
These should be landing with us within the next four weeks.