In building my new PC I've come across a bit of a problem. I've got an aftermarket cooler on my Southbridge chip (as it gets pretty hot). This was a tight squeeze with my 2nd X1900 in the lower slot, but it fits with nothing touching.
The problem I've got now is that my Audigy 2 ZS card is too long to fit in the only remaining PCI slot on the board...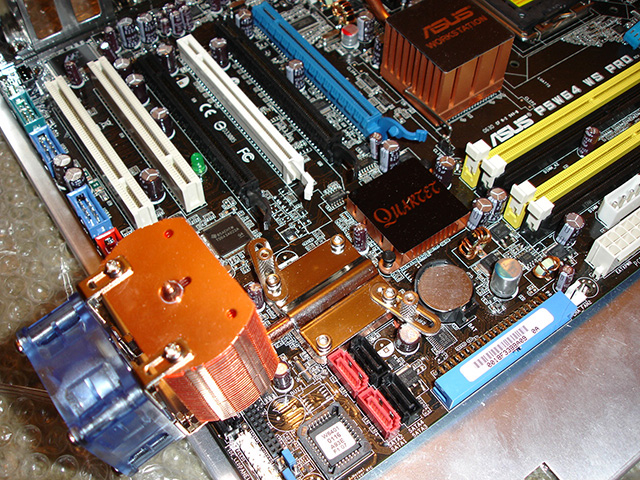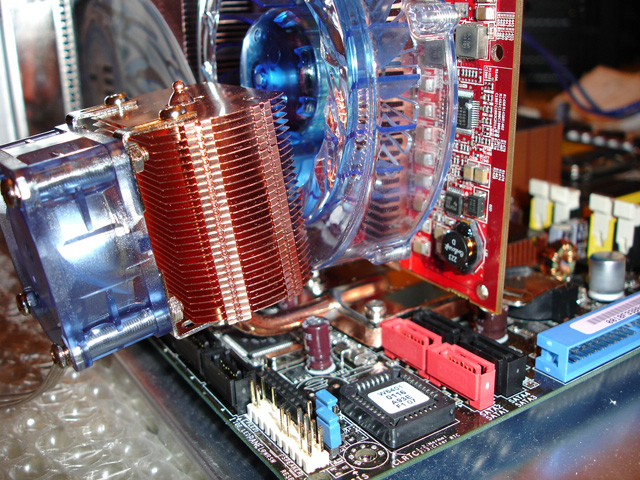 Although you can't really see it in that picture when I try and fit my Audigy 2 ZS card in the bottom PCI slot, the only way I can get it in is by turning that copper cooler clockwise, so it's essentially resting on the white motherboard header pins. With it tilted right over it is impossible to get the connectors in there.
I have a DTT3500 speaker system which requires the Digital DIN output on the Audigy 2 or Audigy 4 Pro (X-Fi doesn't work with it) to get proper digital 5.1, EAX, etc.
So at the moment I'm faced with the following options:
* Ditch the big copper cooler and use the standard one, and hope my overclock is still stable
* Ditch the Audigy 2 ZS and use the onboard sound on my motherboard (no idea how good this is, I suspect it cant be as good as a dedicated card)
* Ditch the HIS X1900 and get another X1900 with a different cooler
Any thoughts?