Joined

24 Mar 2011
Posts

6,444
Location
There's not a dedicated thread for 5G home broadband that I can see, and with Three's current offering at £27 a month for 24 months, with unlimited data, and the 1st 6 months at half price, 5G could now potentially be a replacement for fixed line broadband for some people.
Myself included.
Background: My house has a BT Openreach FTTC connection, and that's it. No Virgin media, no FTTP. Current sync rate on the Vodafone FTTC is 32mbps, but I've had a struggle getting that. Over the past 2 years the line from house to telegraph pole has been replaced along with the master socket, and a fault at the exchange fixed. At times it's been under 20mbps.
Virgin Media did a big expansion to within a few hundred metres from me, but stopped there, and with no sign of them coming to my street any time soon, I started looking at options.
The Three 5G coverage checker has me right on the edge of a 'no coverage' hole, probably due to the elevation, to the north (and between my house and the mast) is a dip where I doubt any connection would be possible. It also said the signal was good outdoors, I was .75km away from a good indoor signal.
As Three offer a 30 day money back guarantee, I thought it would be worth a test to see if it could work. I placed the order with Three on Monday evening and it was delivered this morning. Once I got home, it took 5 minutes to 'install' it and get some semblance of an internet connection.
This is the router that's supplied, the Huawei 5G CPE Pro:
The 3 lights are (from the bottom up) Wifi, 4G connection and the most important one of all, 5G connection.
The few hours that followed were spent trying every single window sill I could, to get a signal. I knew where my 5G mast was - 900m away as the crow flies, at probably 100ft higher elevation, with tree/houses etc in the way, but could I get a solid 5g signal for more than 5 minutes? No. Things were not looking good... Everything I'd read told me to place the router as close to a window as possible, don't have curtains drawn between the router and the window, and make sure it can see the sky.
After this, I thought sod it, and paced the router on a bookshelf some 6ft inside the room, still facing the window at the correct angle, and.... constant 5g connection. Not a single drop out for 20 mins, 30 mins, 40 mins.... 1hr, 2hrs... hold on. I drew the thick blackout curtains. The signal remained. It was lower than what I was getting when I did get 5g on the window sill, but more importantly it was stable.
I think the window frames were interfering with the signal, as raising the router into the middle of the window pan improved thing a bit, but not to get a reliable connection.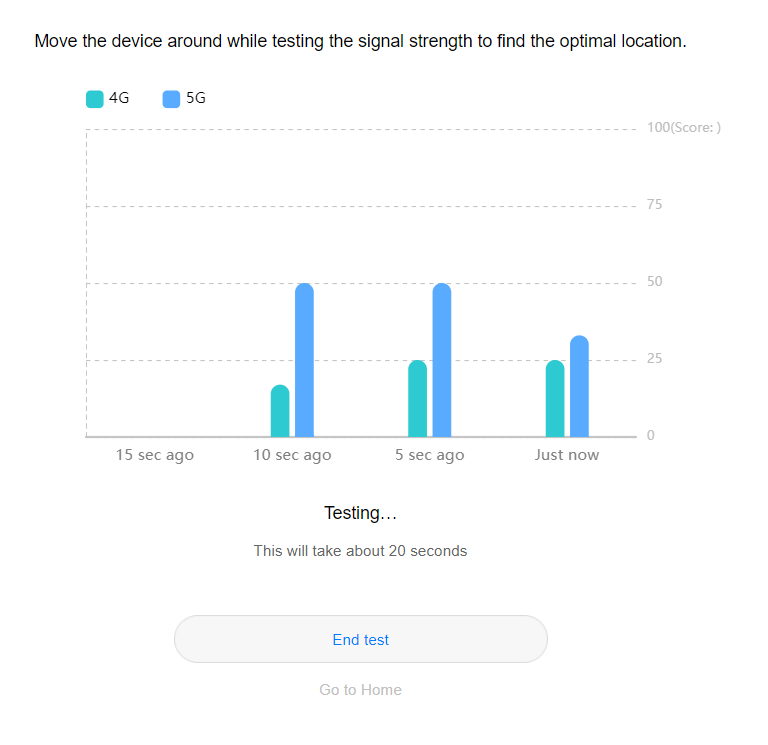 So, what sort of speed does a relatively poor (25-50% according to the router, however it also shows 4 out of 5 bars) 5G signal, in the middle of a particularly wet and windy evening, and at the range limitation of a 5g mast, get you? Well, it's not currently the 5G headline speeds of 3/400mbps, that's for sure. But it is a HELL of a lot better than 25-30mbps. I'll have a further play with the router location tomorrow evening so see if I can further improve the signal, and to see what a clear day does regarding the signal.
Now, I will say - on a good signal, I've often had 90-100mbps on my EE 4G phone connection, so to some this may seem poor - the ping on a 4G connection for gaming etc isn't really there yet, 5G improves upon this, and hopefully with favourable weather and a bit more fine tuning of the router location I can get a stable, regular 150mbps download speed. Remember, I'm 900m from the mast, with trees/houses etc in between and no line of sight. The fact I get any signal at all, is pretty remarkable, in fact.