From they guys who created the Bushmaster
Looks like a Bush pig/Wart hog to me, yet incredibly cool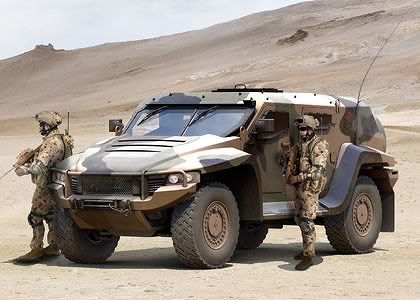 Australian soldiers could find themselves going to war in a vehicle named after a venomous snake - a thoroughly modern version of the tried and proven old Land Rover.

Defence company Thales has unveiled a mock-up of its new Hawkei (pronounced Hawk-eye) protected light mobility vehicle which is to be offered to the Australian Defence Force under a project to replace about 1,300 Land Rovers with far more advanced vehicles.

Despite its long and proven service, the Land Rover offers minimal protection against the type of threat certain to be encountered in any future conflict - landmines, improvised explosive devices and gunfire.

Thales Australia managing director Chris Jenkins says scarcely a week passes without a report of attacks on Australian troops in Afghanistan from IEDs, mines or small arms and often all three, underlining the need for troops to be protected.

"The tragic outcomes for coalition forces when attacks have been made on inadequately protected vehicles have been all too clear and unfortunately too frequent reminders of this need for greater protection," he said in Canberra on Tuesday.

Thales has established its new vehicle will protect ADF personnel from ballistic and blast threats that regularly destroy commercial and military off-the-shelf vehicles of greater size and mass.

The company's first priority is to supply the ADF but there is also vast potential for export sales, Mr Jenkins says.

"There are over 50,000 Land Rover-type vehicles unprotected or struggling to be protected around the world.

The Hawkei at seven tonnes and with its levels of protection had unique capability.

Thales land systems head Ian Irving said the ADF wanted unparalleled levels of protection and survivability, mobility and payload in a seven-tonne package able to be transported in the cargo sling of a Chinook helicopter.

"The ADF needs these vehicles now," he said, adding prototypes would be delivered at the end of 2010 for trials in 2011.

A contract is likely by 2012 and production "shortly thereafter".

Hawkei, named after a species of Australian death adder, follows Thales' highly successful Bushmaster, a 15-tonne armoured vehicle manufactured at Bendigo, Victoria, and used by Australian and Dutch troops in Afghanistan.

The new vehicle can carry five soldiers and is powered by a Steyr V6 diesel engine, giving it a top speed in excess of 110 km/h and a range of more than 1,000 kilometres.
http://www.theage.com.au/national/australian-troops-offered-new-ride-the-hawkei-20090929-gaqv.html
Found a new image of one in the plant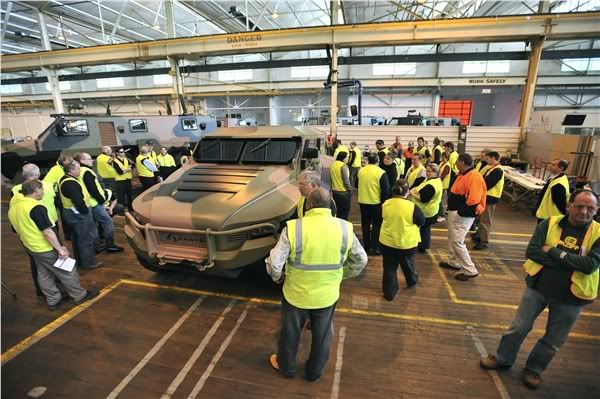 Im sure there are more around but i cant find them at the moment
Last edited: